MEGAMAN® Showcases Extended Range of Luminaires and Smart Lighting Portfolio at The Hong Kong International Lighting Fair (Autumn Edition) 2019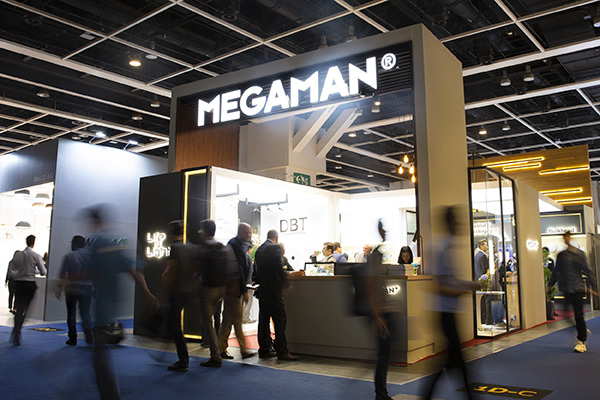 (Hong Kong – 27 September 2019) Global LED lighting innovator MEGAMAN® will showcase its line-up of innovative lighting products, including the latest Dual Beam Technology (DBT) for commercial applications and new additions of INGENIUM Smart Lighting at the Hong Kong International Lighting Fair (Autumn Edition) from 27th to 30th October. Under the theme of "Luminaires for Commercial Lighting", the MEGAMAN® stand will be divided into four highlighted zones including Retail Lighting, Smart Lighting, DBT Experience Centre and Outdoor & Waterproof Luminaires.
Designing flexible and robust energy-efficient lighting for all applications is at the core of MEGAMAN®'s mission. With the theme "Luminaires for Commercial Lighting" this year, MEGAMAN® emphasises diversity, compatibility, interoperability and contemporary design for all its products, providing professional and global buyers with a one-stop sourcing platform for everything they need.    
The Smart Lighting zone will continue to display our signature INGENIUM range of connected LED lighting products including the newly launched Tunable White LED bulbs, RGBW Flexi strip light and our best-selling Smart LED luminaires, Smart dimming modules and scenes setting controllers, which allows you full control of dimming, turning on & off and scene setting via your smart device or voice controls such as Alexa and Google Assistant.
Visit and explore the power of lighting at the MEGAMAN® stand at Hall 1, 1D-B02, Hong Kong Convention and Exhibition Centre, Wanchai.   
For more information about this event, please visit:
https://event.hktdc.com/fair/hklightingfairae-en
About MEGAMAN®
MEGAMAN® is a global trusted brand in energy-efficient lighting. Originated in Germany, we are passionate about original design and high-quality, and have solely focused on energy-efficient lighting products since our inception in 1994. MEGAMAN®'s product and service offerings have evolved over time to meet the every-changing demands of the dynamic market. We thrive to be the leading lighting solution provider. We have made customer experience the central element to everything that we do as well as put future lighting technology within reach of our customers today.
MEGAMAN® has led the lighting industry with groundbreaking innovations that serve professional and consumer markets. Our products are distributed throughout the world mainly in Europe, Middle East and Asia.
For press information, please contact:
Linda Cheung
Neonlite Distribution Limited – MEGAMAN®
Tel: + 852 2305 1722     Fax: +852 2758 5957
Email: lindacheung@neonlite.com.hk