MEGAMAN® MEGA EFFICIENCY - Energy Class A LED bulbs
MEGAMAN® introduces the first MEGAMAN® MEGA EFFICIENCY - Energy Class A LED bulbs, these innovative LED bulbs meet the stringent EU Eco-design and Energy Labelling regulations, which came into effect on 1 September, 2021. Under the new regulations, only lighting products that achieve an energy efficiency of 210lm/W can be rated as EU Energy Class A. This means that these new Class A bulbs consume 94% less energy compared with incandescent lamps, to achieve the same light output and quality as standard MEGAMAN® LED bulbs with the extra-long life time 50,000hrs providing extremely high efficiency up to 211lm/W.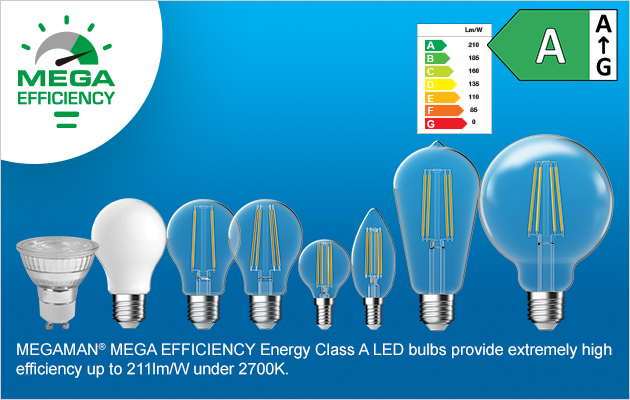 Energy labels provide information about the energy efficiency of lamps – the higher the energy efficiency class, the more the product consumes electricity. It is therefore advisable to look at the energy label before making the decision on what type of bulb to buy. We must all take action towards a sustainable future; choosing more energy efficient products will help us to reduce the consumption of energy and other natural resources. With their extra-long life time of 50,000hrs, MEGAMAN® Energy Class A – LED bulbs are the best choice of LED bulbs to save energy and costs, and are leading the way to a brighter, greener future for our Earth.
About MEGAMAN®
MEGAMAN® is a global trusted brand in energy-efficient lighting. Originated in Germany, we are passionate about original design and high-quality, and have solely focused on energy-efficient lighting products since our inception in 1994. MEGAMAN®'s product and service offerings have evolved over time to meet the every-changing demands of the dynamic market. We thrive to be the leading lighting solution provider. We have made customer experience the central element to everything that we do as well as put future lighting technology within reach of our customers today.
MEGAMAN® has led the lighting industry with groundbreaking innovations that serve professional and consumer markets. Our products are distributed throughout the world mainly in Europe, Middle East and Asia.
For press information, please contact:
Linda Cheung
Neonlite Distribution Limited – MEGAMAN®
Tel: + 852 2305 1722     Fax: +852 2758 5957
Email: lindacheung@neonlite.com.hk