Cathay Pacific.
Location: Hong Kong, China
---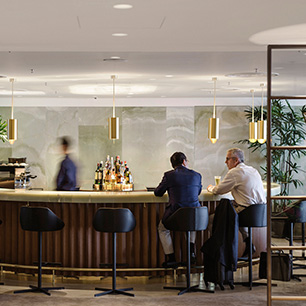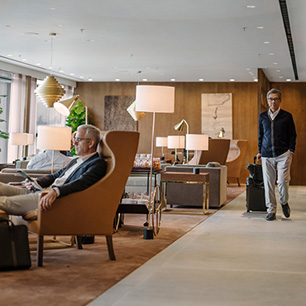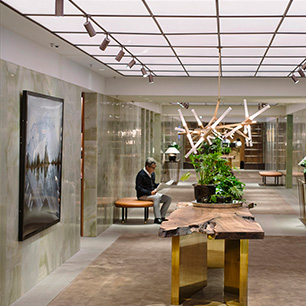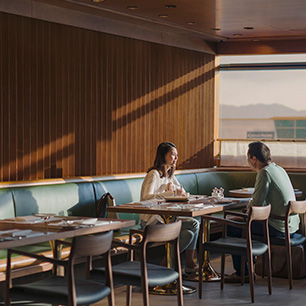 Graces Cathay Pacific VIP Loungewith a Sense of Home
In line with its environmental and energy saving objectives, Cathay Pacific has adopted a series of MEGAMAN® LED MR16 products in its recently renovated VIP Lounge, reflecting the airlines' firm commitment to a greener and more sustainable future.
The lighting scheme at the renovated Cathay Pacific VIP Lounge was developed by the London-based Firefly Lighting Design to enhance the pleasurable mood and ambience. This augmented the master interior design by Studioilse, Ilse Crawford's studio in London. The main idea was to create a sense of home for frequent travellers of Cathay Pacific's Marco Polo Club and the Airlines' first-class passengers. The Lounge is meant to be a second home for guests to relax and refresh before or after their journey. Next to boarding gate 63 at Hong Kong International Airport, the 22,185 square foot VIP Lounge can accommodate around 230 guests. The application of suitable lighting is of paramount importance to highlight different aspects of the Lounge and passengers' needs.
Adhering to Cathay Pacific's brand propositions ─ Asian modernity, warmth and care, simplistic beauty and fun to explore, the interior design by Studioilse has answered the brief perfectly, with every detail in mind ─ materials are first-grade and spatial designs are thoughtful and tasteful.
Recognising the importance of energy saving and green measures, Cathay Pacific has adopted MEGAMAN® LED MR16 reflectors to replace traditional halogen lamps. There are various advantages of using these reflectors, as their design truly takes the quality of light to another level with less visual noise, making the light source more stable and focused but, at the same time, delivering a single point source resembling a halogen light effect. The overall effect of the lighting application is a classy, but warm and relaxing ambience for travellers.
Linear Dimming for Privacy and Pleasure
Another important feature is the dimming function which allows the Lounge to dim lights from 100% to 10% for different scene settings. Dimming is essential as VIP guests can enjoy higher levels of privacy in some private corners, with curtains and dimmable lights offering them an escape to relax their body and mind.
Brighter and more even lighting is applied at the refreshment table to highlight the continuous supply of snacks, fresh fruits and drinks ─ fulfilling the hungry and quenching the thirsty. Delightful colours of fruits and pastries match well with the wooden and subtle furniture colours in the Lounge ─ thanks to the excellent colour rendering of up to Ra85, which brings out the true colours of fresh fruit and food. As light refreshments have to be available 24/7 at this eye-catching table, using MEGAMAN® LED MR16 reflectors means durability and longevity, and hence lower maintenance costs and fewer disturbances to lounge operations.
The reading corner offers sufficiently-lit, yet comfortable, reading lights for book-lovers or those who need to do some work on their laptops. Chair beds are provided to add more comfort and a sense of home. Dimming functions in this area also offer extra energy savings when this area is not in use.
During daytime, sunlight enters the windows of the VIP Lounge. Accordingly, it was a wise move to lower the intensity of the MEGAMAN® LED MR16 reflectors with linear dimming functions for extra energy and cost savings. Under normal circumstances, the LED MR16, with Grade A+ energy labels, offers more than 80% energy savings than its traditional halogen counterparts. The low heat dissipation feature of LED MR16 reflectors also helps reduce the temperature and demand for air-conditioning in the Lounge.
In summary, MEGAMAN® LED MR16 reflectors have perfectly fulfilled the needs for dimmable and accent lighting at every corner of the Lounge ─ from the entrance and corridors, to the bar zone, relaxation zone, eating and reading zone, etc. Daytime and nighttime modes of lighting operations can easily be achieved via dimming and scene setting to maximise energy savings.
As the airline sector is highly competitive, outstanding value-added services certainly make a difference to user experience and brand equity. A first-class lounge experience such as the Cathay Pacific VIP Lounge has realised the benefits of adopting MEGAMAN®'s world-class LED lighting solutions for the sake of innovation and the environment.

Download Project