West Kype Farm
Location: Scotland, United Kingdom

---
MEGAMAN® Illuminates West Kype
Equestrian Events in Scotland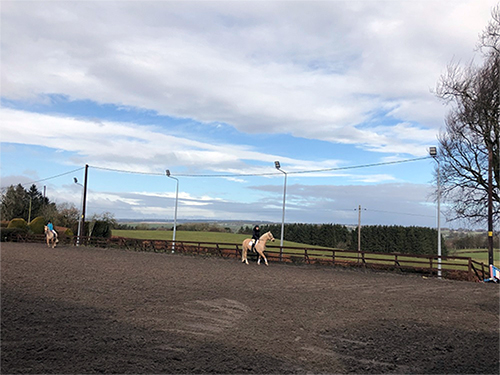 When West Kype equestrian farm in Lanarkshire, Scotland needed to replace its existing floodlights due to an overheating issue, MEGAMAN®'s ENSIO integrated LED floodlights were the ideal solution. The manufacturer provided an energy efficient fixture with a lower heat output than the previous lighting solution and an asymmetric light distribution design which reduces shadows that can often spook horses.
It is essential for an organisation like West Kype Farm to host high-quality events. The site has become a go-to venue for a number of training and competitions events held by the nation's leading dressage and show-jumping organisations. In addition to this, the farm also hosts its own events, running regular show-jumping and dressage competitions.
With such a busy agenda, it is important that the farm works to avoid disruption and can run events as smoothly as possible. As such, it is essential that items like the farm's lighting units are in full working order. Unfortunately, this was not the case last year when a major overheating issue caused the farm's floodlights to break. The lack of light severely hampered the farm's ability to host night shows and rendered the outdoor arena, which was used as a warm-up area during competitions, completely unusable.
Prior to MEGAMAN®'s LED lighting solution, the farm had attempted to use sodium halide lights as floodlights. The units used too much power and caused the farm's power circuit to trip, causing blackouts. Not only did the blackouts make events difficult to run, but the lights took a long time to cool down after tripping. This solution was unviable, as it was neither cost nor energy efficient in the long-term.
Speaking on the problem, owner of the farm, Linda Anderson commented: "It wasn't ideal, especially when it came to hosting night shows where light was essential for the riders' and horses' safety. We spent a few months trying to work around the issue, but it quickly became obvious that we needed to upgrade our units. As such, I decided to reach out to a number of lighting suppliers to see if I could secure a solution tailored to our needs."
During this process, Linda connected with Lindsey Morrison a Business Development Manager at Megaman UK, one of the UK's leading manufacturers of low-energy light bulbs and outdoor solutions. Aware of the farm's issues, Lindsey put forward some of MEGAMAN®'s high lumens, low energy LED floodlight solutions. She recommended that the farm reach out to wholesaler, Holland House Electrical in Kilmarnock who could facilitate the order. In the end, the farm decided on four of the company's ENSIO 180W LED Floodlights across the centre. The outdoor, integrated units are perfect for metal halide floodlight replacement and deliver a lumens rating of 22,000lm and an IP rating of IP66.
Speaking on the project, Lindsey commented: "Away from my work, one of my big hobbies is horses so, on a personal level, this was a great project to be involved with. Previous to the MEGAMAN® installation, the lighting units were inefficient and unreliable. We're delighted to have been able to assist with this and to help get everything running smoothly once again."
Linda was similarly pleased with the new solution and commented: "It was great to connect with MEGAMAN® and to upgrade our existing floodlights. The centre has now been fitted with four of the company's units, which all sit alongside one side of the arena on posts. We're very happy with the new lights, which are really bright. The LED units turn on to their full brightness very quickly and aren't giving us any issues. What's more, I was able to install the units myself as the process was so straightforward, which saved me additional time and money."
Designed as a true replacement for metal halide lamp floodlights, MEGAMAN®  ENSIO 180W LED Floodlights have helped West Kype Farm to overcome a major operational issue at its site and reclaim its position as the premiere equestrian centre in Scotland. Thanks to the homogeneous illumination afforded by the integrated unit things have returned back to normalcy at the centre and competitions are running routinely once again. [
More information
]