Variety Voyager
Location: Greece
Interior Designer: Lally Poulias
---
---
---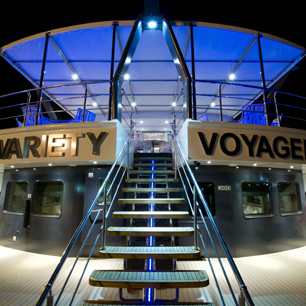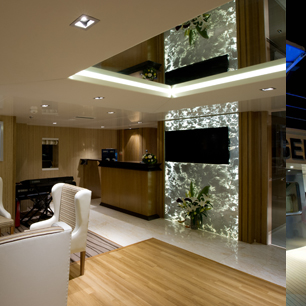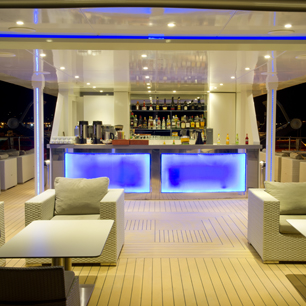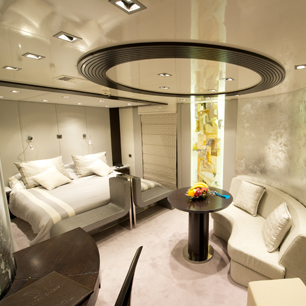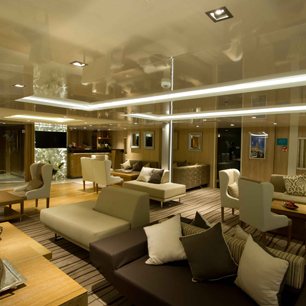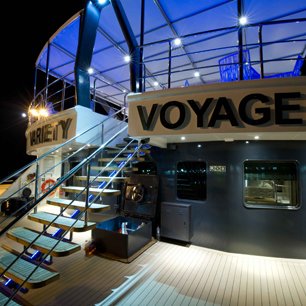 Variety Voyager benefits from MEGAMAN®'s range of highly efficient, reliable LED lamps
With luxury yacht sales buoyant despite the global economic downturn, ship builder S.N. Dassiras, Greece, has completed the latest in a line of state-of-the-art yachts. Thanks to the inclusion ofMEGAMAN® lamp technology, the yacht is assured a saving of €19,450 and 125,080 kg CO2 per year*.
The 66-metre luxury superyacht has 36 cabins for 72 passengers and is also capable of carrying 32 crew members. From the outset, the owners wanted Variety Voyager to have a warm and inviting interior that ensured the ultimate in relaxing holiday experiences for the yacht's guests. As well as combining a cleanly lit, minimalist scheme in the public areas with luxurious, warmly lit cabins, the owners wanted the lighting scheme to be as energy efficient as possible and require minimal maintenance. With interiors designed by Lally Poulias and lighting fixtures by A. Mallios - S. Tsoukatou, the end result is the ultimate in contemporary, energy efficient chic.
Luxurious lines
Variety Voyager's sleek lines and ample deck space combined with the interior's warm fabrics, rich marble and wood panelling and highly professional service ensure guests have the ultimate cruise experience. As well as ensuring that the lighting solution was discrete and complimented the sophisticated interiors of the yacht, the lighting scheme also had to frame rather than distract from the unobstructed sea views throughout both Variety Voyager's public and private spaces.
Antonis Maravelias, electrical engineer at Technomare Technology, marine custom integration specialists, explains further: "Working closely with Lally Poulias and the fixture designers, we had to keep in mind the owners requirements for a warmly lit space that was energy efficient, with lighting that was easy to maintain. Having used MEGAMAN® lamps on other yachting installations, they were the obvious choice as their light quality is a true replacement of the warmth that we are used to from halogen light sources. In addition, MEGAMAN®'s reflector technology means that there is no glare from the lamps and their strong construction means that they are built to last."
To maintain the clean lines within the yacht's public and private spaces A. Mallios - S. Tsoukatou designed all of the bespoke lighting fixtures to lie flush with Variety Voyager's walls and ceiling, and illuminated glass murals were incorporated into the main salon area. MEGAMAN® lamps were used to light not only the cabins that are arranged over three decks of the yacht, the main lounge that incorporates an internet and library area and interior and exterior dining spaces, but all of the yacht's corridors, stairwells and crew service areas as well. In addition, they were also used within Variety Voyager's spa, gym and beauty rooms and on the spacious exterior deck space as well.
The scheme includes 800 MEGAMAN® LED PAR16 7W, GU10, warm white reflectors with 35 degree beam angle throughout the corridors and cabins, that deliver 600 cd of beam power. An additional 150 dimmable versions of MEGAMAN®'s LED PAR16 7W, GU10 lamps with 15 degree beam angle and 180 MEGAMAN® LED PAR16 7W, GU10 dimmable lamps have been used in the restaurant and bar areas and 80 MEGAMAN® LED AR111 15W, GU10 lamps have been used throughout the terrace area.
Thanks to the close working relationship between Technomare Technology, S.N. Dassiras, Lally Poulias Designs and MEGAMAN®, the end result is a luxurious yacht that combines aesthetics with the latest in energy saving lamp technology to provide significant energy efficiency, beautifully.
*Based on energy costs of €0.14/kWh and 0.9 kg CO2 emission/kWh

Download Project