Princess Máxima Riding School
Location: Den Dolder, Netherlands
---
---
---
---
---
---
---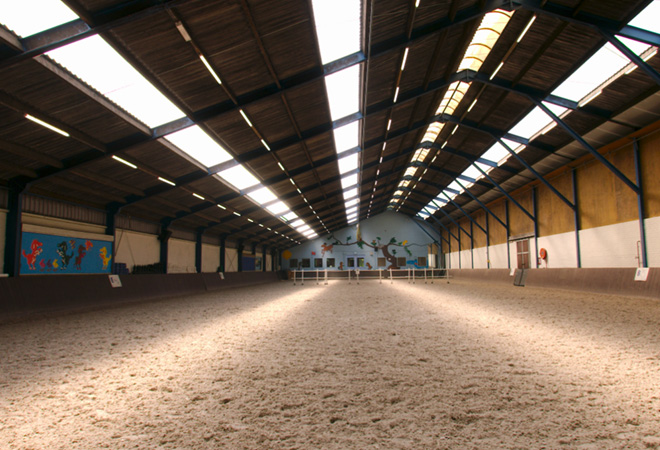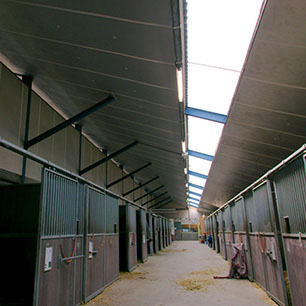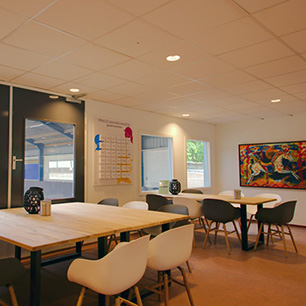 Princess Máxima Riding School benefits from
MEGAMAN®'s range of energy-efficient LED luminaires
Located in Den Dolder, Netherlands, the Princess Máxima Riding School (Prinses Máxima Manege - PMM) is beautifully situated on the edge of the forest and has a large inner box, an outdoor box, two paddocks, a canteen and twenty-two stables. The meadows are in the vicinity of the riding school.  
PMM aims to develop children and adults with physical, sensory, mental or psychological impairment via the adapted horse riding lessons and therapeutic guidance.  They do this together with volunteers involved, under the guidance of professionals and in a horse-wise manner.  
Following a review of the PMM's lighting, it became apparent that replacing all of lamps within and outside the premises with energy-saving LED alternatives would achieve significant cost and energy efficiencies.  MEGAMAN® supplied a combination of indoor and outdoor integrated LED luminaires for use throughout the project and the new lighting fits in with the interiors and architecture structure design in the best possible light.
Over a hundred pieces of the MEGAMAN® DINO Integrated Waterproof LED Batten are installed on the high ceiling of the paddock to generate a uniformity lighting for big spaces.  It is designed to offer an ideal alternative to T5 and T8 waterproof battens for outdoor and indoor applications.  Proper fixture placement can evenly lit spaces, reduce reflected glare and make all work tasks easier and safer.
The DINO Integrated Waterproof LED Batten offers high lumen output of up to 6500lm, IP66 protection against water and dust and IK08 rating for vandal resistance that makes it an exceptionally durable and long-lasting solution. It comes with sliding stainless steel clips for easy and flexible installation. 
The PMM has a open structure of all activities that clients perform.  The activities consist of brushing and saddling the horses, guiding riders and horses during the lessons and various activities that the daily team of volunteers, trainees and clients perform together.  The MEGAMAN® DINO FARM is a special version of the popular DINO Integrated Waterproof LED Batten for agricultural environments.  Its chemical resistant housing materials are designed to withstand harsh farm locations and is suitable for use in intensive animal husbandry such as stables where high levels of resistance to aggressive ammonia-containing gases is essential.
With an integrated driver and a built-in LED, the MEGAMAN® SIENA FR Integrated LED Recessed Downlight is selected for ambience lighting in the lecture room. The SENIA FR Downlight delivers high luminous efficacy of up to 106 lumen per watt and has a rated life up to 50,000 hours – combining high performance with maximum energy savings. 
For common spaces and corridors, RENZO Integrated LED Bulkhead is an ideal alternative to traditional ceiling and wall mounted CFL bulkheads (replace compact fluorescent lamps from 1x18W up to 2x26W, and 2D 16W and 28W).  The built-in opal PMMA diffuser enables every RENZO surface mounted LED luminaire to deliver evenly distributed lighting and visual comfort.
Nevertheless, the MEGAMAN® ESTELA LED Panel is applied in appropriate spaces for perfect replacement with similar light output for 3x24 HO t5 and 3x18 T8 modular fluorescent louvre fittings.  It provides simple design with cell louvres for excellent light control.  The distinct advantages are low glare rating for visual comfort (UGR ≤ 19) and light weight with slim profile for easy installation.
Perched on the outdoor environment, 10.5W FONDA Integrated LED Outdoor Bulkhead, TOTT and ENSIO Integrated LED Floodlights are opted.  Coupled with water resistance at IP66/IP65 rating and vandal resistance at IK10/IK08 rating, they are tough yet light weight, durable and long lasting.  It is ideal for applications of outdoor signage, gated areas and hacking trail that will give the exterior of premises an inviting ambience, increased functionality and added security at night.
Rolf Ibsen of MEGAMAN® Netherlands comments: "Our aim is to promote good quality lighting solutions than can really make a difference in people's lives and in the social communities.  The end result of the PMM project is stunning and it reflects that we make people's lives safer, more inspired, productive and comfortable by exploring the possibility of upgrading the lighting to more energy-efficient alternatives."