Bubies.
Location: Hong Kong, China
Designer/Architect: Wesley Liu, Atelier PplusP Ltd
---
---
---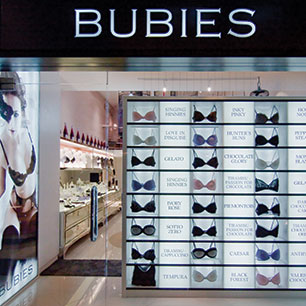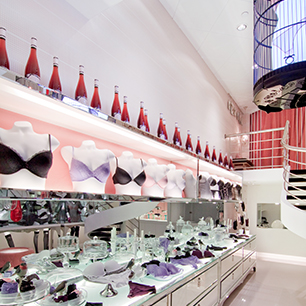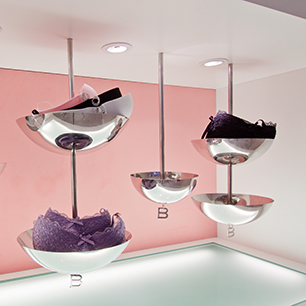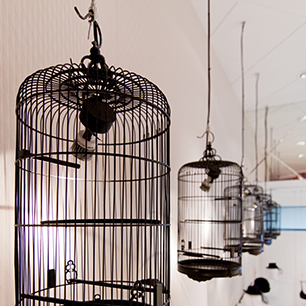 BUBIES Allows you to Enjoy the Luxury of Shopping in a Comfortable Environment
An eco-lighting solution is adapted to suit the exclusive luxury of the BUBIES lingerie shop, highlighting specific areas and uniformly illuminating where required, and create ultimate comfort in shopping environments.
In any retail premises, the role of lighting goes beyond the concept of simply providing light. It is a key element in the shop design and maintenance, as well as being a significant part of the overall expenditures. As energy saving lighting technology moves forward with the times, so are many businesses investing in their own future and that of the planet too.
In recent years there has been more and more interest in environmental protection among retailers and their customers. BUBIES Lingerie Ltd is no exception, and in fact is probably more than likely to appreciate that added touch of an exclusive eco-friendly shopping environment.
Sustainable Eco-Lighting Satisfies Aesthetic Demands
When planning the BUBIES grand launch in 2010, designer Wesley Liu of Atelier PplusP Ltd formulated a green design policy that would allow BUBIES to present its luxurious fashions in a sophisticated trendy style and yet maintain an environmentally friendly shop space. The choice of cost-effective sustainable lighting options, with MEGAMAN® LED lamps, was easily incorporated into the shop's design in a way that benefits the customers, the environment and the business.
Proving that today's long-lasting, environmentally friendly lamps are up to the task of creating the high-class feminine atmosphere befitting a shop that markets elegant lingerie, BUBIES opted for the exceptional versatility of LED lighting to provide ambient lighting, accent lighting and spotlighting. The wide range of LED lamps in different sizes and wattages allows the designer unlimited flexibility in setting the desired ambience. At the same time, due to their long life, these lamps can also reduce electricity costs by up to four-fifths of the cost of traditional lighting applications, and in doing so, reduce CO2 emissions to have a positive effect on the environment.

LED Lamps Augment the Product Displays
First impressions of a shop's interior are vital. Even distribution of light and accurate rendering of vibrant colours are essential elements naturally integrated into the shop's eco-lighting design. For effective product display lighting on the shelves, Wesley installed MEGAMAN® Self-Ballasted Linear, which completely avoids the dark zones that normally occur with traditional fluorescent lighting.


Dramatic accents and aesthetically pleasing spotlighting, achieved using the MEGAMAN® LED PAR16 and LED AR111 reflector lamps, are an important design aspect in attracting the brand's affluent young female clientele. The low-heat generation of LEDs, which produce one-third the heat of comparable halogens, are able to ensure customers' safety near the lights and that delicate items placed close to the display lights do not sustain any damage. Additionally, LED lamps that have their own allure can become a refreshing part of the overall eco-lighting decoration, as in the application of the MEGAMAN® narrow-beam spotlights in BUBIES unique, suspended bird cages. Lights do not always need to be hanging or fixed to the ceiling or walls to be effective or appealing. The chic GLO light, by the European brand LEUCOS, fits well into the natural theme of the shop despite being a decorative fixture at floor level.


In addition to the use of energy saving lighting, BUBIES' designer suggested the use of environmentally friendly materials in the interior design, LEED1 accredited wallpaper made from recycled paper and zero toxic emission paints to achieve a truly eco-friendly environment.


1 LEED stands for Leadership in Energy and Environmental Design, is an internationally recognized green building certification system, providing third-party verification that a building or community was designed and built using strategies aimed at improving performance across all the metrics that matter most: energy savings, water efficiency, CO2 emissions reduction, improved indoor environmental quality, and stewardship of resources and sensitivity to their impacts.

Developed by the U.S. Green Building Council (USGBC), LEED provides building owners and operators a concise framework for identifying and implementing practical and measurable green building design, construction, operations and maintenance solutions. (U.S. Green Building Council, 2011)
The versatility and low overall cost give LEDs the advantage over traditional halogens in a multitude of locations and styles of shops. Adapting eco-friendly lighting to the BUBIES lingerie shop was a challenge that no environmentally conscious designer could resist. Through the use of MEGAMAN® LEDs, which were designed to tackle the energy saving and aesthetic demands of the retail community, Wesley's plan was made a little bit easier.

Download Project