Festival Walk.
Location: Hong Kong, China
---
---
---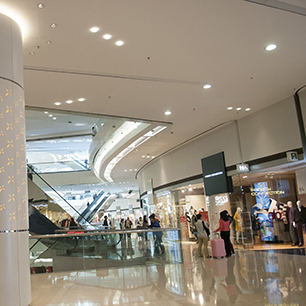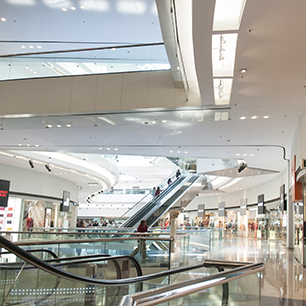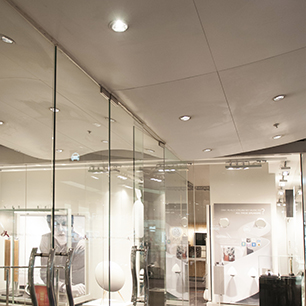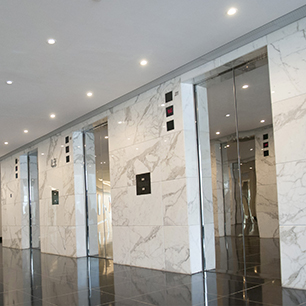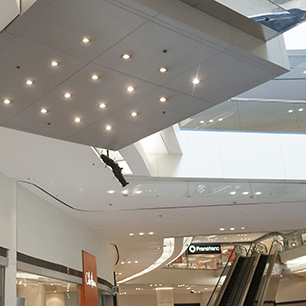 Festival Walk
Harnesses Natural and Eco Lighting for Better Environment
Opened in 1998, Festival Walk is a seven-storey, upmarket mall centrally located within the living district of Kowloon Tong. It enjoys excellent connectivity to various parts of Hong Kong as well as Mainland China with its multi-modal transportation hub comprising direct rail and buses to Mainland China.
The mall's strong and experienced management team respect the environment for the sake of a sustainable future and better living.
Eco lighting is one of the key areas of building services that Festival Walk's management spare no effort in complying with the energy efficiency standards of Hong Kong. Its efforts have been recognised by various awards, including Client of the Year, Low Carbon Operation, granted by the Chartered Institution of Building Services Engineers (2010) and Hong Kong Awards for Environmental Excellence ─ Merit (2009).
To ensure maximum comfort for shoppers while protecting the environment, Festival Walk has given up halogen lamps used in ceilings, lifts, escalator soffits and even toilets as general lighting, and deployed MEGAMAN®'s LED eco-lighting solutions for general lighting and accent lighting purposes. Traditional halogen lamps consume six times more energy and emit almost six times more carbon dioxide than LED lamps. Halogen lamps also generate more heat than LEDs which raise the energy consumption of air conditioning. Therefore, it is necessary for Festival Walk to look for alternatives as a long-term solution to lower mall operation costs and overcome environmental challenges.


A True Energy and Cost Saver
The new generation LED AR111 series, with the same size as halogen AR111 lamps, is the perfect alternative to the halogen counterpart as it delivers the same brightness but saves up to 80% of energy. The LED AR111 reflector 10W and 15W are used to replace 50W halogen lamps, which mean less electricity is consumed. This helps reduce energy bills without sacrificing light performance. Designed with MEGAMAN®'s patented Thermal Conductive Highway™ (TCH) technology, the LED AR111 lamps deliver thermal control for optimal performance, dissipating much less heat and preventing the LED itself and other components from deterioration. The LED AR111 lamps have even an impressive lamp life of up to 40,000 hours that effectively reduces re-lamping and lumen maintenance costs as well.
MEGAMAN® AR111 reflectors are available in 8, 24 and 45 degrees of beam angles, suitable for general lighting purpose and special occasion to create desirable ambiences for the shopping environment. The narrow light beams also maximise the appeal of products, making them truly stand out. Furthermore, unlike halogen lamps, the MEGAMAN® AR111 reflectors are totally free from mercury and UV which ensures maximum safety for the consumers, and contributes to a sustainable future.
With a total of 40 million shoppers so far and a diverse array of high-quality multinational well-known brands, Festival Walk is well-positioned to capture the vast majority of Mainland shoppers coming to the transportation hub in Kowloon Tong. With supreme lighting quality, multiple light beam angles and many other cutting edge benefits, MEGAMAN®'s LED solutions are the ultimate partner for any socially responsible corporations to implement their green policies.



Download Project