Simmons Bedding & Furniture (HK) Limited.
Location: Hong Kong, China
---
---
---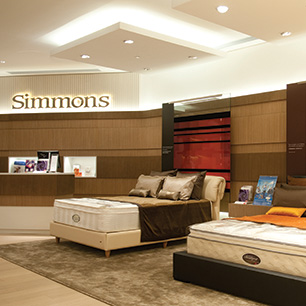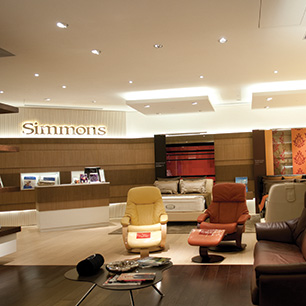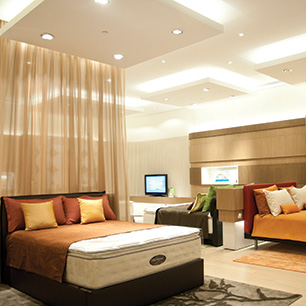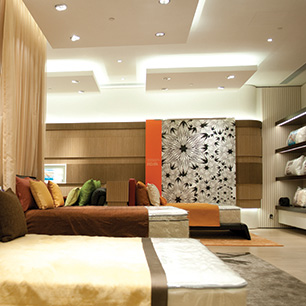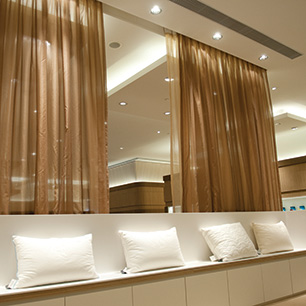 Simmons® Combines Green Concepts with Good Business Practices
Energy savings in reduced electricity and maintenance costs for lighting applications can aid eco-friendly policies that protect the environment while at the same time provide a pleasant shopping experience.
Quality of sleep has always been the top priority for Simmons Bedding & Furniture (HK) Ltd. Besides sleep and healthy living, another concern that is high on Simmons® list of priorities today is the environmental impact of energy wastage in people's daily lives. This prompted Simmons® to take the initiative to establish and implement an eco-friendly policy of energy savings for its business operations. An important part of this policy includes the replacement of traditional halogen lighting in Simmons® shops with MEGAMAN® energy saving lamps.
Achieves Energy Savings through Efficient Management
Founded in 1870, mattress expert Simmons® has long been researching the way people sleep in order to make the world's finest mattresses. A prime example of such research is the development of the patented pocketed coils in the Simmons® Beautyrest® Pocketed Coil Mattress ─ a mattress that has changed the sleep history of people ever since.
Just as Simmons® took its mattresses and sleep research seriously, so it did with the assessment of its own operational sustainability and energy savings. In 2008, Simmons® was awarded ISO 14001 Environmental Management System Certification, which recognised Simmons® efforts to carry out its own individualised environmental management. This means that through a series of guidelines, Simmons® is required to oversee and control the environmental impacts of its operations, products and services, such as saving electricity, minimising the usage of paper and recycling. An efficient management system such as this not only sets goals for continuous improvements within the business but also promotes environmental awareness among its staff.
Creates a Comfortable Shopping Environment with Eco-Lighting
Simmons® believes that the importance of comfort in its shopping environment should not come at the expense of the Earth's environment and, working together with MEGAMAN®, has put its focus on a 'green' lighting policy. MEGAMAN® energy saving lamps are now installed in almost all Simmons® shops to provide appropriate lighting without glare and create a comfortable shopping environment that allows customers to feel the  bedroom atmosphere'. The trend in energy efficiency concepts has increasingly become an important factor in decisions on suitable lighting options. Emitting only one-third the heat of halogens, recessed downlight fixtures with MEGAMAN® LED PAR16 7W provide both balanced ambient lighting and a pleasant shopping experience in the Simmons® shops. The narrow beam angle of the MEGAMAN® LED AR111 15W easily provides flexible accented ceiling lighting onto the shop design without the uncomfortable heat intensity and power consumption of comparable halogens.
Since lighting accounts for a significant share of operating costs, reducing the electricity usage and maintenance costs for lamps that effectively illuminate merchandise has now become one of the main objectives of Simmons® to employ an eco-lighting solution. Finding a replacement for halogen lamps that can maximise lighting performance in terms of energy savings and lighting output is one of the challenges that retailers are now embracing. This is the motivation behind Simmons® making the choice to use MEGAMAN® energy saving lamps ─ these lights have a long lamp life of up to 40,000 hours and their use provides a reduction of up to 80% in electricity costs, thereby significantly reducing CO2 emissions and helping to protect the environment.
Energy efficient LED lamps have helped Simmons® successfully resolve its essential green lighting requirements while pursuing its commitment to the protection of the environment. In this way, Simmons® has proved that it is possible to combine green concepts with good business practices.

Download Project