CENTRAL/CENTRAL.
Location: Hong Kong, China
Designer/Architect: Steve Leung Designers Ltd
Lighting Designer: TinoKwan Lighting Consultants Ltd
---
---
---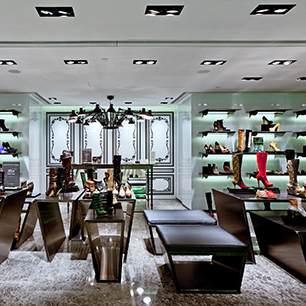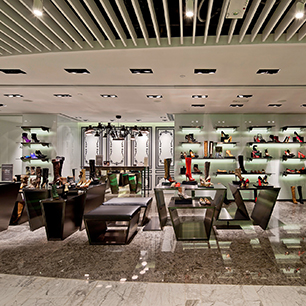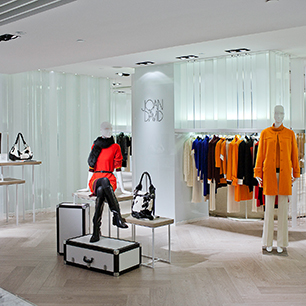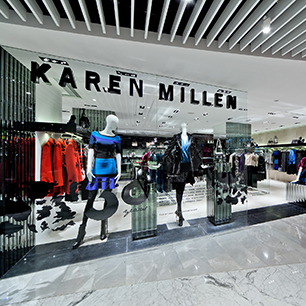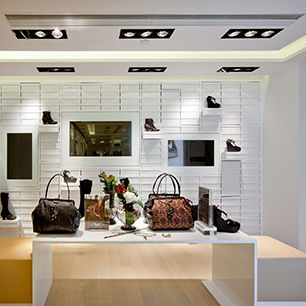 CENTRAL/CENTRAL Allows you to Enjoy the Luxury of Shopping in a Comfortable Environment


An exciting new shopping experience in the heart of Hong Kong's financial and commercial district, Central, is turning heads thanks to its array of designer stores, lit with the latest in highly energy efficient MEGAMAN® lamp technology. CENTRAL/CENTRAL, a retail concept developed by GRI, Asia's leading international apparel and accessories brand-management and retail-distribution company, brings together the company's portfolio of brands under one roof for the first time Names in the 18,000 square feet retail space include Anne Klein New York, Carolinna Espinosa, Easy Spirit, EQ:IQ, Joan & David, Karen Millen, Nine West and Steve Madden. Thanks to the use of MEGAMAN® LED reflector technology, the end result is not only the ultimate in visual lighting drama, but in energy savings as well with 105,090 kWh saved in energy consumption and 73,563kg in CO2 emissions per year.
To create this stylish mall, GRI commissioned Steve Leung Designers Ltd to design a flowing space that accommodated each brand's outlet with fluidity, but also allowing for individual expression. Working alongside renowned lighting designer, Tino Kwan, founder of Tino Kwan Lighting Consultants, the result is a stunning white shopping canvas within which each 'art collection', or brand, is presented.
Tino Kwan explains: "CENTRAL/CENTRAL is a holistic shopping experience, and with this in mind, it has been divided into nine areas, eight shops and one private relaxation area, each with its own style and character of light fitting. Each of the shops reflects the individual personality of the international designer represented within it and has been designed with the two-fold aim of showing off the beauty of the products within, as well as positively impact sales."
While the design of each of the stores aims to offer the maximum flexibility for merchandising, the lighting technology used throughout has been chosen with visual impact, customer comfort and energy efficiency in mind. Tino Kwan chose to use MEGAMAN® LED Reflector Technology due to the lighting performance of the lamps, the variety of directional beam angles available and the sustainable credentials of MEGAMAN® as a company. Within CENTRAL/CENTRAL, over 750 MEGAMAN®'s LED AR111 10W dimmable 8, 24 and 45 degree light sources and MEGAMAN® LED MR16 10W dimmable 24 degree lamps were used, to create the right balance of drama and ambience within each of the stores, whilst reducing heat and energy consumption.
The possibilities of LED technology
Apart from its energy saving potential and light quality, LED technology is of interest in retail installations due to the reduced heat output of the lamps and their ability to be positioned near to items on display.
Part of MEGAMAN®'s LED Reflector Series, MEGAMAN®'s AR111 and MR16 ranges of LED low energy replacements for halogen reflectors incorporate the company's patented Thermal Conductive Highway™ (TCH) technology, which has superb heat dissipation, lighting performance and lumen maintenance. As a result the MEGAMAN® LED AR111 and MR16 ranges last up to 13 times longer and use 80% less power than halogen equivalents. With the same high quality light intensity and colour rendering of traditional AR111 and MR16 spotlights (colour rendering of up to Ra92), but with no UV light radiation, negligible IR radiation or residual glare, the LED AR111 and MR16 ranges are ideal for use in any retail outlet.
CENTRAL/CENTRAL – the design experience
Designed as a lifestyle experience, CENTRAL/CENTRAL encourages customers to find inspiration, balance and a sense of wellbeing in its stores and VIP suite. From the moment shoppers arrive at the double height
atrium CENTRAL/CENTRAL seeks to inspire and welcome.
The atrium
To evoke a sense of floating within an ethereal setting, textures rather than colours are used within the atrium, to add interest and depth. A selection of beautiful marble has been used throughout, whilst a sculptural fin panel has been installed as a decorative element. A reflective, fluid mobile installation by renowned Japanese artist, Hirotoshi Sawada, enhances the mood, hovering above the space.
The Stores
The curved, sculptural walls lead customers to the Nine West store, illuminated by signature light cubes in the windows. An off-white palette, light oak wood flooring and warm lighting serve to highlight the colourful seasonal merchandise; while diagonal shelving provides a layered, 3-D perspective. For a dynamic touch, a TV wall introduces the latest trends and styling tips to customers while it adds a sense of movement to the overall shopping environment.
The casual sophistication of Easy Spirit is presented in a free floating design concept store. A warm colour palette with timber wall cladding and marble flooring imbue the space with a serene, muted ambience. Inspired by Easy Spirit's "anti-gravity" secret soles (made with millions of cushioning nitrogen-filled micro bubbles), playful elements have been designed for the area, such as shoe hanging features and drifting plinth shelves.
Infused with classic refinement and sophistication, the Joan & David corner boutique is beautifully encased in glass to give customers a discreet sense of privacy without sacrificing the light, open character of the space as a whole. Oak flooring, a white ceiling, modern lighting, and an arc-shaped lounge area convey the comfort and luxury of a private beautiful home.
The VIP Suite
The VIP suite includes a curved wall and curve-line sofa to maintain the interior's sense of flow and harmony throughout this private sanctuary. This seating area includes complimentary WiFi and refreshments to re-energise customers before returning to the world beyond the doors of CENTRAL/CENTRAL.
CENTRAL/CENTRAL is a prime example of what can be achieved when the latest in high quality LED lighting technology is used to its maximum effect. Thanks to the long lamp-life and superior light performance of MEGAMAN®'s LEDs, CENTRAL/CENTRAL will not only look good for many years to come but save significant amounts of energy and CO2 in the process.

Download Project