Green Common
Location: Hong Kong, China
---
---
---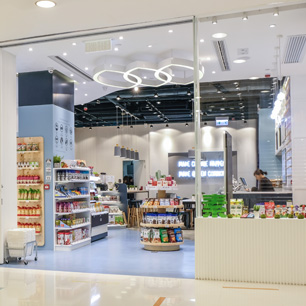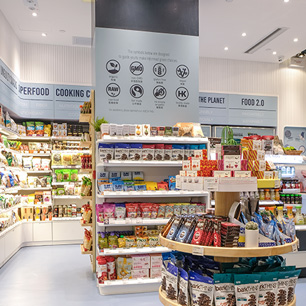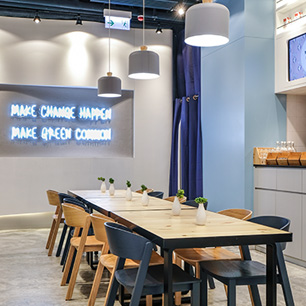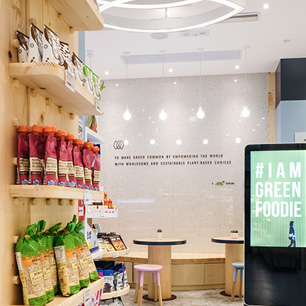 Green Common's Health Food Oasis in Harbour City

Green Common, a one-stop concept store for green shopping and dining, aims to inspire a holistic and sustainable mindset and lifestyle, has unveiled its 4th store at Harbour City in Kowloon. In 2015, Green Common first set up shop in Wan Chai and it has opened two more concept stores in Central subsequently within one and a half years, championing the message "The Future is Plantbased".
MEGAMAN® and Green Common Harbour City collaboratively strike a harmonic chord in arousing public awareness of ecoliving and go green. The concept store can accommodate up to 50 patrons in an expansive area of over 1000 sq. feet. Adorned with glass sliding doors, tiffany blue and white tone, and high ceilings, the spacious shop is an oasis amid the bustling district. Environmentally-friendly and intensely bright, MEGAMAN®'s LED lighting solution blends perfectly well against the backdrop of Green Common's health food offers and the hip interior design.
Equipped with a café, Green Common launches its innovative Food 2.0 ingredients into the signature dishes ranging from Beyond Burger, Hainan Runaway Chicken, Shanghai Chill to Rainbowl. It takes plant-based food to a whole new level and is set to become a revolutionary hotspot for plant-based food.
A wide selection of green products such as plant-based milk, plant-protein "meat" products, vegan cheese and desserts, coffee, kids' food and snacks, etc. are also displayed at specially-designed shelves. Thanks to the patented Thermal Conductive Highway™ (TCH) technology, MEGAMAN® 15W ESTA Integrated LED Track Light delivers high quality and comfortable lighting yet precise beam which is desirable for accent lighting. With the excellent light output, MEGAMAN® ESTA series is a perfect alternative for 75W halogen AR111 track lightings. Simplistic and neutral design makes the most of MEGAMAN® signature reflector aesthetics and creates a stylish track lighting which is perfect for retail lighting.
MEGAMAN® ZEKI Ø50 Gimbal Luminaires incorporate with TECOH® THx LED Light Engines (LLE) for spotlighting effect are adopted to illuminate a wide array of green foods and drinks. The built-in optics and heat-sink simplify the upgrade to a high efficient LED solution, MEGAMAN®'s groundbreaking hybrid reflector technology offers enhanced beam control and efficacy, while minimising spill light, reducing glare and eliminating the 'visual noise' of multiple lens arrays. Despite the shop has a high ceiling, light is evenly distributed to create an extremely comfortable and pleasurable ambience to enhance the shopping experience.
MEGAMAN® hybrid reflector technology also combines superior performance with aesthetics – barely distinguishable from the much-loved and familiar look of a halogen reflector, but with far higher efficiency.
MEGAMAN® LED lighting products dissipate less heat and hence lower energy wastage whilst providing higher lumen efficacy. Nowadays, discerning retailers and hoteliers increasingly choose MEGAMAN® LEDs to make their go-green concept end on a high note.