De Vierbannen Brasserie
Location: Zeeland, Netherlands
Lighting Designer: Sight Light BV
---
---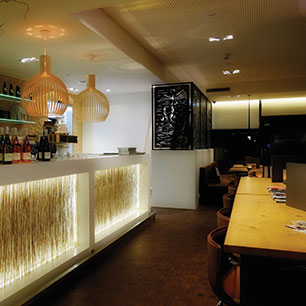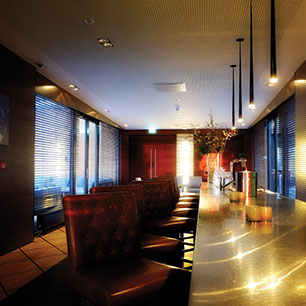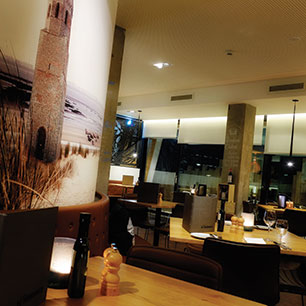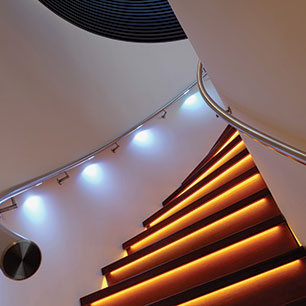 A highly energy efficient 'room with a view' due to MEGAMAN®
With 360-degree panoramic views over the Dutch Zeeland's Westernmost point, De Vierbannen Brasserie blends sustainable design and dining, with stunning results. Thanks to its use of the latest MEGAMAN® LED lamp technology, the brasserie will save over €6,160 in energy and 13,950 kg CO2 per year, which equates to a total saving of €89,300 (including re-lamping costs) and 148,600 kg CO2 over the lifespan of the lighting installation*.
The newly built De Vierbannen Brasserie has been designed to give diners both the wonderful vistas of the surrounding coastline and a gourmet menu full of locally sourced foods.
To maximise the surrounding views, De Vierbannen Brasserie installed floor to ceiling glazing. This created both an opportunity and a challenge for the brasserie's lighting designer, Frans Kroonen from Sight Light BV. Frans Kroonen explains: "In most eateries the lighting is focused around maximising the interior dining experience, however at the De Vierbannen Brasserie our remit was to not only produce a highly energy efficient lighting scheme, but maximise the diner's view of the panoramic waterways around both the brasserie and restaurant areas."
With this in mind, Sight Light BV needed to use the most energy efficient lamp technology available that not only set the mood, but minimised glare on the floor to ceiling glazed areas. By using MEGAMAN®'s unique axial geometry and patented Thermal Conductive Highway™ (TCH) technology, Sight Light BV were able to achieve the desired precise light control with MEGAMAN®'s LED AR111 lamps, which also offer premium lighting performance and superb heat dissipation and lumen maintenance. These were chosen for use throughout the upper and lower bars, restaurant and conference rooms. Lasting up to 13 times longer than halogen equivalents and using 80% less power, MEGAMAN®'s LED AR111 range is ideal for use in retail and restaurant outlets, where high quality light intensity and colour rendering are required.
In total, 216 MEGAMAN® LED 10W G53 AR111 45° 2800K dimmable reflectors were used throughout the brasserie in Orbit Lighting fixtures. With a lamp life of up to 40,000 hours, the energy efficient remit of the lighting brief was achieved. With MEGAMAN®'s high end dimming control, the AR111 can be dimmed down to 1%, ensuring the ultimate in choice in lighting level.
The owners of de Vierbannen are very pleased with the end result. As well as bringing versatile lighting to the brasserie, the lack of radiant heat from the lamps improves the overall diner experience for guests. Whether lit for day or night, de Vierbannen's new lighting scheme is highly energy efficient and does not detract in any way from the panoramic views that surround the De Vierbannen Brasserie.
* Based on calculation of:
Replacing 216 x 50W 12V halogen lamps with 216 x LED 10W G53 20V AR111 running 12 hours a day, 6 days a week in the lobby, corridors, restaurant and bar areas.
CO2 emission : 0.43 kg/kWh and energy cost : 0.19 €/kWh

Download Project