Éclectic
Location: Paris, France
Designer/Architect: Tom Dixon's Design Research Studio
Photographer: Thomas Duval
---
---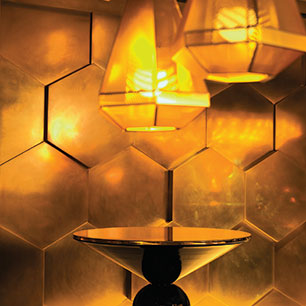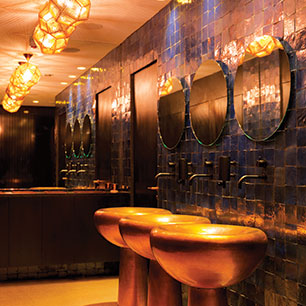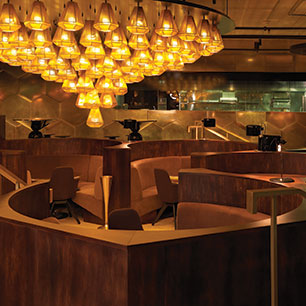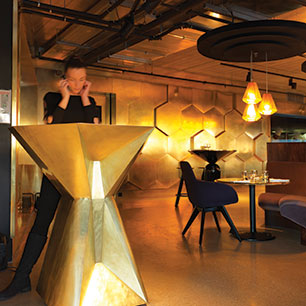 Parisian Chic and MEGAMAN® Technology Bring Style and Efficiency to Éclectic
When critically acclaimed restaurateurs, Fabienne and Philippe Amzalak decided to open a high-end dining experience in Paris, they enlisted the help of design empresario Tom Dixon. The end result is a dramatically lit interior that references the 1970's heritage of the building, yet uses the latest in LED lighting technology to create impact and drama. By using over 120 MEGAMAN® LED Classic 7W lamps, the scheme will also deliver a combined saving of €2,500 in electricity costs per year compared to traditional equivalents*.
Tom Dixon's Design Research Studio was commissioned to create a scheme that would make the most of the stark concrete interior of the restaurant. Éclectic is located in the Beaugrenelle Centre, a refurbished 1970's shopping complex situated in the 15th Arrondissement, beside the Seine. The shopping centre is now home to many high-end brands and since its opening, the restaurant has become a focal point for midday shoppers and the business community alike.
Using the building's 1970's heritage as a basis for his design concept, Tom Dixon's Design Research Studio created a solution that celebrated the 1970's love affair with all things geometric. The Tom Dixon Cell Pendant was chosen to light Éclectic, as its structure, constructed from layers of minutely etched brass with a hexagonal cross section, brings 1970's sophistication into the 21st Century.
Clusters of the Tom Dixon Cell pendants have been hung from circular acoustic panels constructed by interiors lighting specialist Chelsom throughout the space. Located in the main dining room and private dining booths, they create a visual backdrop to the breathtaking 3.5 metre diameter chandelier that hangs in the centre of the restaurant. Containing 124 Tom Dixon Cell pendants, the central chandelier looks dramatic yet uses minimal energy, due to the incorporation of MEGAMAN®'s LED Classic 7W lamp.
Tom Dixon, Creative Director for Tom Dixon's Design Research Studio, comments: "Drawing inspiration from the 1970s architecture surrounding the restaurant, the design plays with colour, simple repeat modules and clean geometry. The design intends to soften the hard finishes of the contemporary building; warmth and comfort are the key drivers for the interior finishes, and the concrete is softened with brass, and the whole restaurant is furnished in abundance with custom-designed products. The MEGAMAN® LEDs add warmth and sophistication to the scheme."
Éclectic is a testament to the power of combining quality design with elegant LED lighting. Thanks to the creativity of Tom Dixon's Design Research Studio and MEGAMAN®, energy efficiency and 1970's urban chic have never looked so good!
* Based on calculation of:
Operation hours: 12 hours per day, calculated based on 1 year period. Total number of light point: 124 pcs (124 x 7W MEGAMAN® LED Classic used instead of 40W incandescent lamps).

Download Project