Tapagria.
Location: Hong Kong, China
Designer/Architect: Aedas Interior Ltd
Lighting Designer: Firefly Lighting Design
---
---
---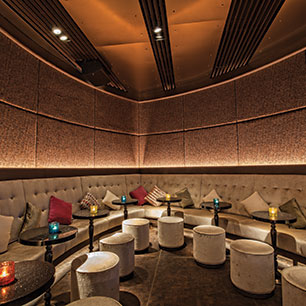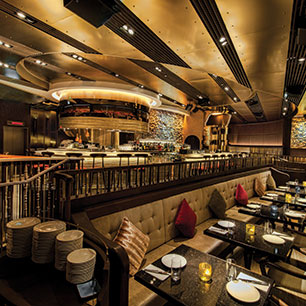 Lighting, Décor and Sound Synergise in Innovative Fine Dining Restaurants


The new restaurants opened by famous actress Carina Lau at L18, The One, is a perfect example of how interior lighting, décor and sound work together to accentuate customers' fine dining experience. Featuring two high-end restaurants, namely Kyo-Shun (Japanese cuisines) and Zurriola (Spanish cuisines), and a tapas bar called Tapagria, the new F&B outlet has live DJ every Friday night to hype up the atmosphere.
 
Overlooking the iconic Victoria Harbour, the restaurants are designed by Aedas Interior Ltd's award-winning designer, Irakli Imerlishvili, whose signature resort and hotel projects span five continents. He has a finely tuned sense of blending luxury, fine dining and Barcelona's lively ambience into this innovative dining experience.
Lighting does not only provide functionality that it serves, but also plays a dramatic role by accentuating the patterns of structure and creating a pleasant setting. Recognising the importance of lighting, Aedas appointed Firefly Lighting Design to design the restaurants including a tapas bar, the linking corridor and restrooms. LED lightings are used to complement and accent the interior design of each individual space with appropriate light levels for the type and mood of each restaurant.
Throughout the whole project, two major MEGAMAN® LED reflectors, AR111 and MR16, were deployed to provide perfect accent lighting effect in the restaurants' lighting fixtures while achieving energy efficiency. The reflectors are ideal for use in shops requiring long operating hours, thanks to MEGAMAN®'s patented Thermal Conductive Highway™ which uses a unique "heat drain" design across the reflectors to allow efficient dissipation of heat and prevent deterioration of the LED and other components. This also enables energy reduction of up to 80% and reduced heat. With its linear dimming function, MR16 allows the designer to even out the day-lit spaces by balancing the artificial light levels in the restaurant throughout the daytime, and then slowly transition into dramatic and intimate atmospheres at night time.
Each restaurant has its own characteristic in design, but all of them have a contemporary approach and are dramatised by special lighting effect. For example, Tapagria adopted tailored timber and wood materials to match with the Spanish head chef's authentic cooking style, which is dramatised by Firefly's lighting scheme to increase its contrast. For example, accent lighting is used at the DJ booth to give out a halo of light, at the feature walls to deliver animated water effect for a night-club feel, and around the bar and open kitchen with subtle lines of light around. All these were easily applied with the versatile MEGAMAN® LED AR111 and MR16 series which are known for their wide applications in wall lights, pendants, chandeliers and kitchen lighting etc.
The other examples include indirect lighting ─ concealed lines of light behind the wall and ceiling panels ─ used in the corridor which serves as a neutral zone to balance out the lift arrivals, the three dining areas and the restrooms. The only direct light here is given by downlight on the restaurant names printed on the floor.
The Spanish Cuisines, Zurriola, is surrounded by large art pieces and a full height wine display. The lighting solution is purely to accent the art and integrated individual adjustable LED lights within the wine display to highlight the wine labels of every bottle, without providing glare to nearby diners.
Kyo-Shun, the Japanese restaurant serving Kyoto Kaiseki cuisines, has a main dining area which overlooks an outdoor Japanese garden. It has also asushi bar and teppanyaki tables. The lighting there is both functional and dramatic, with integral lighting within displays including edge-lit glass walls and grazing techniques and glowing ceiling at the sushi bar. The teppanyaki area has a sand effect to the lowered ceiling, which is grazed with light.
All three restaurants are unified by a gentle glow to the blinds, which are lowered slightly for effect. Throughout the whole lighting installation, Firefly managed to use the same selection of MEGAMAN® LEDs for different types of downlight to unify the colour temperature. Furthermore, MEGAMAN® LEDs are easier to be installed, more durable in terms of lamp life and physical design and hence minimise the maintenance and energy costs for the restaurants.

Download Project